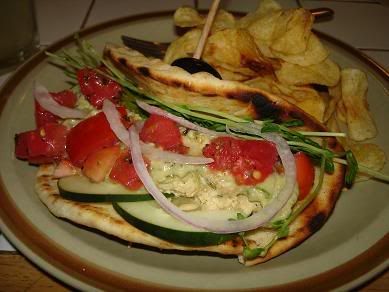 See that? That's my delicious lunch last Sunday at
Kavarna
in Green Bay, WI. I had the Mediterranean Burrito described by their menu as "a toasted pita with Kavarna's homemade hummus, baba ghanouge, and marinated roma tomatoes" with "fresh cucumbers, onions, and organic sunflower sprouts".
I wouldn't mind a second helping right now. I opted for the chips instead of the grapes as my side, but that was a good choice as I needed something with which to scoop up and devour the hummus oozing out the sides of the sandwich.
My beverage of choice on an unseasonably cold and rainy August day? Rosewater Lemonade. Yes, a hot soy latte might have been more fitting, but I wanted to try their lemonade. It was great. It smelled like my great-grandmother (and her rose-scented lotions) but tasted great. (My meal totaled $8.91 which was more than fair. The whole menu, in addition to being well labeled for vegans and others with allergies/sensitivities, was quite reasonable in that regard.)
I look forward to stopping in again the next time I'm up that way.